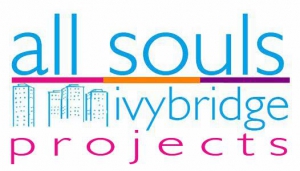 Richard writes…
This month we launch a very significant financial campaign in All Souls. We aim together to raise £10,000 p.a. in new monthly donations, helping secure the future of All Souls Ivybridge and the significant community work it represents.
Would you commit to a monthly gift for All Souls Ivybridge? Just a few pounds a month would help secure it as a long-term ministry continuing to impact local people at their point of need?
Through All Souls Ivybridge we serve the diverse communities centred on the estate at the western end of the Parish. We aim to follow Jesus' commitment to reach across cultural barriers and to care for those in need. This commitment is expressed most visibly through four weekly projects, enabled by volunteers drawn from All Souls and from across our local communities, cultures, and faith groups.
Over the years, we've adapted what we provide in order to match local need and the availability of team members, but our four core values remain consistent:
Building Community – we aim to build safe and welcoming spaces where people can connect with others and know they belong. Friendship Café & Cooking Pot are our weekly café and creative spaces in the Bridgelink Centre.
Provision for Crisis – the All Souls Ivybridge Foodbank provides emergency food packages to those who find themselves without the resources to feed themselves and their families in times of crisis. It also signposts local advice services so that clients can be empowered to get back on their feet.
Empowering Individuals – The English Project, led by Jen Causley (our Community Projects Manager) grew out of a clear need for flexible language learning for local women, enabling them to engage in the wider community.
Community Chaplaincy – Fi Budden has been involved in the life of the communities around Ivybridge for nearly five years. As well as strategic leadership for the projects, Fi provides community pastoral care and works to offer appropriate and relevant contexts in which people can explore faith.
Over the years, these dynamic and effective projects have been made possible by spending from capital. Now, however, we are determined to express a long-term commitment to Ivybridge by building future funding on the regular giving (large or small) of the members of All Souls and beyond rather than an ever-decreasing fund.
Your monthly donation – whether £10, £20 or much more – will make this vision a reality. What could your household afford to set aside each month to serve the needs of some of those who live so nearby?
Read more and find out how to set up a regular gift (or give a one-off sum) really easily online via: www.allsoulschurch.org.uk/allsoulsivybridge
Thank you!