The original letter in pdf format is available to download.

Are you on the team?
One of the things people say they appreciate about All Souls is that it is a straightforwardly welcoming place to visit and attend – whether you're brand new to church life, or returning after many years. At the same time, when you get to a point of wanting to really "belong" then it's a reasonable question to ask what that looks like in practice?
In All Souls, we describe belonging under our Count Me In banner: four ways we can make a difference to the life of the community here. We talk about being committed to "grow in my faith, serve as part of a team, give financially and to tell the Good News of Jesus to others".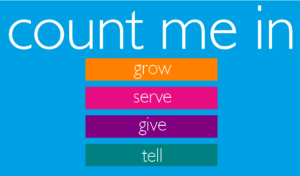 This month I'm going to be asking you to think about how to respond to two of those parts of belonging: serving as part of a team and financial giving.
Financially we do have a significant mountain to climb together this year. Over the past decade our giving hasn't kept pace with the growth of All Souls. This means we're spending capital (from a large gift some years' ago) to cover the basic costs of standing still rather than being able to use that cash to get us going on the increasingly urgent job of refurbishing the inside of the church. In just a handful of years the capital we do have will be gone.
Very simply, If every household that hasn't got round to giving chose to start and if current givers increased their monthly gift by just a small percentage, we'd climb the mountain this year. I'll be writing to everyone in the next few days to explain more.
But there is an equally significant resource in church life and that's people! The time and energy given by volunteers who choose to serve as part of a team – whether on a Sunday or midweek – is the key to so much of what we do. From Sunday children's groups, to Sunday hospitality or worship leading, from Ivybridge Projects to Little Souls on a Wednesday, it's our teams that are the 'arms and legs' of the community here.
June is the month for each of us to consider how we're currently involved and to commit for the coming year – whether continuing and/or offering for something new.  All our teams need new volunteers and generally no previous experience is needed. There are few better ways to have a clear sense of making a difference in this community – and now's the time to consider how you can serve in the coming year.
The Church Census 2018
Every few years we ask every adult in All Souls to complete a handful of questions by way of a 'census', helping us get a clearer picture of the whole community of All Souls and to plan effectively for the next chapter of our life together here.
I would be very grateful for a few minutes of your time later in June to complete the form – you'll be able to do so online (via ChurchSuite) or in paper form – and to help us plan for the future, in terms of our teams, our budgeting… but also our vision for what God can do among us and through us in the coming months.