Richard writes…
Serving our local communities
All Souls, St Margarets-on-Thames (to give  our parish its full CofE name!) stretches across a diversity of communities it would be hard to find outside a big city like London. From the detached houses in gated developments in the east, to the high rise blocks on the Ivybridge Estate in the west, we serve communities as different from each other as it's possible to imagine – each with their own needs, hopes and dreams. Each of them loved by the God we know in Jesus.
The Ivybridge Estate became part of our parish just a few years' ago. Since then we've been working alongside community groups, council departments and residents themselves to support, build up and resource the communities based on and around the estate.
In an average week, in the Bridgelink Community Centre on the Estate, we currently host and run:
The Friendship Café – a place of welcome, conversation and activity, for all who enjoy good company and for especially older folk who might otherwise be alone. (Tuesday mornings)
The Cooking Pot – a friendly melting pot of cultures and communities, often sharing food from far-off homes and family memory. (Wednesday mornings)
Foodbank – supporting those who are in crisis, needing help to feed themselves and their households. Also signposting good advice and support to help them get back on their feet. (Thursday mornings)
English Language (ESOL) Classes – a supportive, safe space in which to learn English conversation, helping increase integration and access to those newly arrived from other countries. (Thursday afternoons)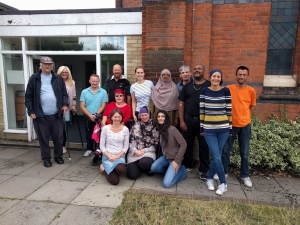 All of these projects are led by volunteers, under the leadership of Fi Budden (our Ivybridge Community Chaplain) and Jen Causley with support from Jez and myself.
All of these projects need volunteers to thrive and grow.
Whether welcoming and befriending in a Café, chatting with someone practising their English in an ESOL class, or putting together a bag of food at the Foodbank, we aim to serve the communities and to offer unconditional welcome in Jesus' name.
Could you have an hour or two in a week to offer to help?
We are recruiting new volunteers to start this September, so why not contact me to find out about what would be involved in joining an All Souls Ivybridge team?
It's a great chance to make a real difference in our local communities.