Spring Term 2010
Thursday 18th February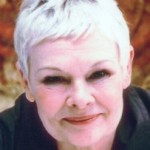 The Rose Theatre in Kingston (a real treat if you haven't been before)…Judi Dench is taking a lead role (Titania) in Midsummer Night's Dream. To see more:
www.rosetheatrekingston.org/whats-on/dream
Tickets for the Thursday 18th Feb performance (£16 a head) – 20 tickets bought and all gone…!! If you would like to come, let me know and we will see if we can get any more….
If you are interested in coming contact Ali Mathew on 0208 892 9509 or email her at ali@allsoulschurch.org.uk