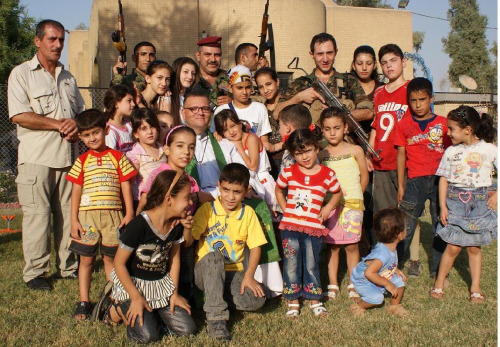 Thursday 27th May, 8pm All Souls Church
Guest speaker, Canon Andrew White, '…The Vicar of Baghdad'
Imagine arriving at church one Sunday to discover the windows had been blown in by bomb blasts in the surrounding streets… and not for the first time! This is part of daily life for the parishioner's of St. George's Baghdad and their Vicar, Canon Andrew White (pictured just left of centre with glasses in the accompanying photo).
Canon White is often referred to as 'the Vicar of Baghdad' and serves as parish priest to a congregation of over 3,000 Iraqi people at St. George's, Baghdad. He is President of 'Foundation for Relief and Reconciliation in the Middle East' (www.frrme.org) and through both St. George's and the Foundation he coordinates delivery of humanitarian relief to the people of Baghdad and the work of the 'St. George's Clinic'.
In addition to his role as parish priest in what must be one of the world's most challenging parishes, Canon White also coordinates the 'Inter-Religious Reconciliation Initiative', bringing senior religious leaders together to build relationships and work for peace. He is the author of three books including 'The Vicar of Baghdad: Fighting for Peace in the Middle East'.