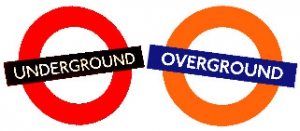 Meeting sometimes literally(!) underground beneath our hall stage, our youth groups – are for those in Year 6 and above.
Russell Dickens (9.20am) and Richard & Catherine Frank (4.30pm) lead teams of volunteers from All Souls running Underground (Yr 7-9) and Overground (Yr 10+).
9.20am service – Underground
4.30pm – Underground & Overground
Sessions are a mix of fun, food, discussion, Bible-digging, games and prayer.
Special events coming up this term – more details to follow:
April
Tuesdays 24th April for four weeks (up to half term) Youth Track : 6 to 8pm in the Church Halls
May
Tuesdays 1st, 8th & 15th – Youth Track 6-8pm
Tuesday 22nd – Social
Sunday 20th (4.30pm) – Youth-led Service (no Underground a.m.)
June
Tuesdays 12th, 19th & 26th – Youth Track 6-8pm
Saturday 16th (5pm) – Soul Survivor Watford Celebration
Sunday 24th (4.30pm) – Youth-led Sunday Service
July
Tuesday 3rd – Youth Track 6-8pm
Tuesday 10th – Social
Sunday 15th – Last youth groups of term
Make sure we've got your mobile number to hear more!
Use the Contact Us page to find out more.