At the current time, due to the Covid restrictions, we are running the following services at All Souls:
Sundays:
10am – Livestream online worship via our facebook page
11.15am – Worship service in church incl. Communion (book a seat via our diary page)
2nd Sun only:
11.15am – Children's service in church (book a seat via our diary page)
6pm – 'The Six' – informal, contemporary worship service (book a seat)
We would love to see you at any of these services, and you can book a seat via our diary page up to 6 days before.
When booking a seat, do please familiarise yourself with the guidelines re attending services in the church during the Covid pandemic, which are on the booking form.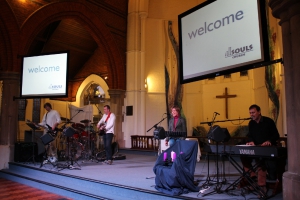 You'll be welcomed at the door and asked to 'sign in' (so that we can fulfil our 'Track & Trace' obligations) and then one of our welcome team will show you where you can sit (including the back row if you'd rather keep the exit in sight!)
We've no books or service sheets to find your way through but instead all the words for the service and songs are on the video projection screens at the front.
Although the current government regulations don't allow members of the congregation to sing, our worship band will be leading a number of songs which we hope that you will still be able to use to worship God.
At our main 11.15am service there will be songs, prayers, a Bible reading and a short talk, as well as the occasional interview. Each week, we will also celebrate Communion together (bread only). The service usually lasts about 45 minutes.
Our Children's service (2nd Sunday only) will be short, lively and interactive, and suitable for all children and their parents / carers.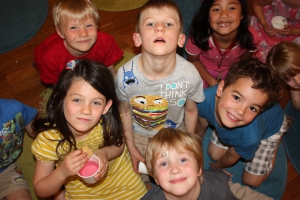 Unfortunately, we are currently unable to run any children's groups during our main Sunday service, but we will update this page when the situation changes.
You can read more about our other activities for children here.