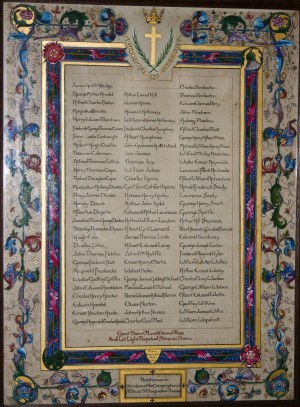 Near the main entrance to All Souls there is a memorial to those from the surrounding roads who perished in the Great War. It serves as the focal point of our 11/11 and Remembrance Sunday acts and we occasionally have visitors who are tracing their family tree, but it's gone relatively unnoticed over the years.
Martyn Day, a member of the local community, has dug into archives and unearthed some stories from the people named on that board – and tells the story of the two wooden crosses either side. Many thanks to him for permission to publish his article here.
Click on 'fullscreen' below for easiest reading.
[scribd id="41537429″ key="key-1r2zdm7wtaspjonb8fjx" mode="slide" height="380″]