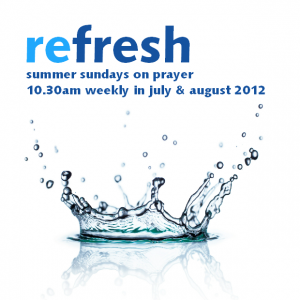 Starting in mid-July and running through to the end of August, our summer Sunday's have a different feel as many head of for holidays.
On 15 July we start our new series looking at prayer and how it refreshes our lives. We'll be working our way through the Lord's Prayer line-by-line – learning from Jesus as he taught his disciples.
From the following week – 22nd July – we will have a morning service only (10.30am and no 4.30pm). The afternoon service restarts on the first Sunday of September.
…the Summer Sunday services will also be a little shorter than normal with 'self-help' children's groups for the second half of the one-hour services.
We're building towards a Weekend of Prayer on 14th – 16th September (mark it in your diaries now!).