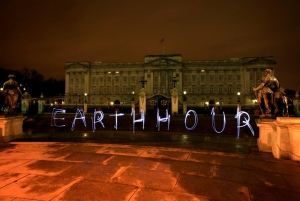 "Then God said, "Let there be light"; and there was light. …and God separated the light from the darkness."
"The light shines in the darkness and the darkness does not overcome it."
I love that God created light – and Thomas Edison too.
Walking up Kilimanjaro in the very early hours of the morning was that bit more manageable wearing a head torch. I doubt that Thomas Edison foresaw the 24/7 society that we live in now though, in part facilitated by his electric (or now LED) lightbulbs.
Saturday 19th March, 8.30-9.30pm is Earth Hour an annual global celebration started by WWF – now in its tenth year – not to demonstrate how much energy is saved but to show that people care about the future of and to put the spotlight on issues affecting the planet.
10.4 million people in the UK joined in last year. Will you be one of them this year? How about a candlelit dinner? Or go outside for an hour and look at the stars…
Here are just some of the ways in which you can take action to add your voice and make a lifestyle change for a future where people and nature thrive. Just as God intended.
Helen Stephens – Soul Living Team