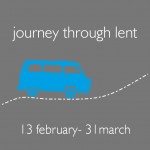 Find out more about our Journey Through Lent…
[tab:Prayer Gatherings]
February
13th – Ash Wednesday – 8pm : Worship, Prayer & Ministry [Church]
Mon 18th [tbc] – Prayer Run – 8pm : a jog (~5k) around the Parish, with ideas beforehand about how to pray as you go!
Wed 27th – Pray for Ivybridge (eve) – 8pm : walk & pray around the estate.
March
Fri 1st – Pray for Ivybridge (day) – 10am : walk & pray around the Estate
4th to 7th – Home Groups prayer
Tues 5th – Pray for local Schools – 9.30am : (babies/toddlers welcome!) [Halls]
Tue 12th – PCC Meeting : with a special focus on prayer for All Souls
Sat 16th – Men's Breakfast – 8am to 9.15am : breakfast and prayer [Halls]
Thur 21st – Women's Worship – 8pm to 9.30pm : Worship, Prayer & Ministry [Church]
Thurs 28th – Maundy Thursday Prayer – 8pm : using the Prayer Space to focus prayer and worship
Prayer Space
We're bringing back the Prayer Space (or 'Chapel') for Holy Week – the plan is to open early mornings (6am to 10am) for the whole week and to have a special Maundy Thursday prayer gathering kicking off 24-hour prayer leading up to Easter Sunday morning.
[tab:Digging Deeper] Short courses or sessions –
book here online
.
Being a Parent
Faith and Under-5s – Thursday 28th Feb : 9.30am (babies/toddlers welcome!) : practical tips for helping small children engage healthily with faith
Preparing for Puberty – Tuesday 26th Feb : 8pm : some thoughts and tips for helping pre-teens (~7's to 10's) be ready for the changes ahead.
What Makes Believing Difficult?
If I were God, I'd end all the pain! – three evenings (Thurs 28th Feb, Thurs 14th & Mon 25th March) – digging into the biggest question of all: how can we believe in a God of love in a world of so much suffering?
Real Life Faith
God and creation – why on earth should we care? – 13th & 27th March (Wed 8pm) – two sessions reflecting on God in our world and our role in caring for and celebrating creation.
Pray As You Go – two Monday evenings (25th Feb & 11th Mar) with very practical resources for weaving prayer, Bible reading and reflection into normal, busy and unpredictable lives.
Home Group – a small group of All Souls members meeting once a month or fortnight in a local home. Making connections, learning to pray for one another and (often) sharing food and looking at the Bible together. book here.">Find out about a group near you.
Study Group – small groups meeting monthly or fortnightly to dig into the Bible together: sharing questions and ideas and encouraging each other to go on with their faith. Start one yourself and book here.">express an interest.
Prayer triplets – a trio (or 2 or 4!) who commit to meeting regularly (perhaps over lunch at work or an evening at the pub) and pray. book here.">Express an interest or simply ask some friends!