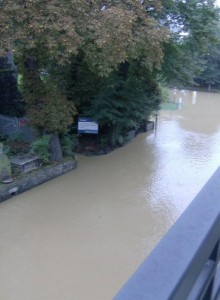 All Souls member (PCC Secretary, expert hat wearer, Welsh Eisteddfod attender etc.) Helene was our correspondent at the flood of Brentford (should probably be called 'Part II' following the burst water main earlier this Summer).
Here's her photo from a few days ago looking out of the window – and, no, that's not the canal or River Thames, but the main road outside.
It suggested a cartoon… and having published a few in the past (about churchwardens most recently), I couldn't resist this one…
If Noah lived in Brentford.