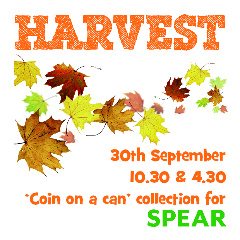 On the 30th September we will give thanks in our Harvest services at 10.30 and 4.30. We hope you will come along!
In 2011/12 there was an increase of 43% in people sleeping rough in London, so this year we will be collecting non-perishable food for SPEAR a local homeless charity in Richmond and Twickenham.
They are encouraging people to support their 'coin on a can' appeal and sellotape a coin to each can or packet of food that they donate. This will ensure that their clients receive donations of food which are always important to them, but that SPEAR will also receive financial support of which they are in real need.