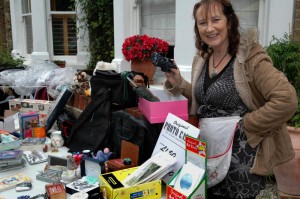 A great chance for us to welcome local residents into All Souls on the day of this year's GASS – the Grand Annual Street Sale…
Saturday 11th December 2010
What is GASS? Well, to quote the NSMRA (Residents' Association) website:
Is that old Rembrandt still cluttering up the attic? Getting bored with those dusty Fabergé eggs in the bathroom? Is that authentic Ormolu clock really ticking you off?


Get rid of them NOW in the North St. Margarets Residents Association 'Grand Annual Street Sale', from 1.00pm on Saturday 11th September. It's like a car boot sale without the car…or the boot!


Simply stick a small table or bench in front of your house, cover it with all those things you want to get rid off – books, records, plants, curios, toys, clothes and home made cakes, pickles and jams – and then sell them. You fix the price and you keep the money! What could be simpler?


Register NOW with Martyn on 0208 892 5211. Registration fee is just £2 for residents or £5 for those living outside the neighbourhood.


The Grand Annual Street Sale – It's a G.A.S.S!
We are providing a place to display the entries for the NSMRA photography competition and our own 'Alpha Cafe' – can you help staff the cafe and welcome people into the building for an hour that Saturday?
If you can help, simply use the contact form to let us know, or drop Sue an email in the office… Thanks!