Sermons this term
Our new Sunday series of talks is Good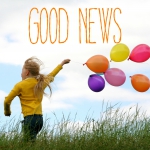 News for Everyone!
"Good News!" – not simply a good idea, a good way of life or a good religion. The Christian faith is founded on the belief that in history, God has acted in and through Jesus and done something that changes history… for good.  If Jesus is truly the Good News, then we have something great to share!
 This term we'll be looking at what the Good News is, how it shapes our lives (and church!) and how we can pass it on to others.
You can listen to our sermons online, see here for more information.