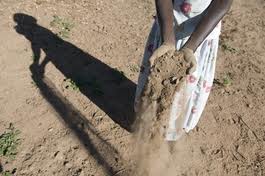 Disappearing species, extreme weather events, depleted natural resources … Natural disasters are sometimes the stuff of Hollywood films but increasingly in our daily news. Is this the normal pattern of life, beyond our influence and control? How does this relate to our faith, to the Kingdom of God and how might we respond as Christians?
Session 1: Why should we care?
Wednesday 13 March, 8 – 9.30pm
Venue: All Souls, Underground
'Why should we care?' – During this first of two evenings exploring our relationship with and response to creation, we'll look at what planet earth means to God, what the Bible says about our relationship to the rest of nature, our responsibilities to the world's poorest and what on earth we can do. 'The earth is the Lord's and everything in it' (Psalm 24) – what is our response?
Session 2: Celebrating creation
Wednesday 27 March, 8 – 9.30pm
Venue: All Souls, Underground
'Come on and celebrate' – During the second evening, we will think about how we celebrate creation as God's gift, what we notice (or miss) around us and how we can find joy in nature everyday.
Please do join us if you can for one or both evenings. We'd love to think through these issues together.
Click here if you would like to sign up and come along.