Soul Living theme for the month…
What the bible says: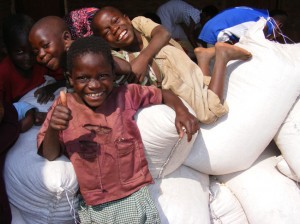 Encouragement to be generous
I do not mean that there should be relief for others and pressure on you, but it is a question of fair balance between your present abundance and their need, so that their abundance may be for your need in order that there may be a fair balance. 2 Corinthians 8.13-15
Feeding the five thousand
Taking the five loaves and the two fish, he looked up to heaven, and blessed and broke the loaves, and gave them to the disciples, and the disciples gave them to the crowds. And all ate and were filled. Matthew 14.19-20
For the glory of God
So whether you eat or drink, or what ever you do, do everything for the glory of God. 1 Corinthians 10.31
Did you know?
Food insecurity and unfair trade: Over 1 billion people in the world are hungry. Every day, almost 16,000 children die from hunger-related causes – one child every five seconds. $1.3bn is the amount developing countries lose every day due to unfair trade rules.
Fairtrade goes bananas: 1 in every 4 bananas sold in UK supermarkets is now Fairtrade. More than 7 million people in Africa, Asia and Latin America benefit from Fairtrade – farmers, farm workers, and their families.
Local food is good food: Good for the environment – less road and air transport, less packaging, pollution and waste. Good for the local economy – keeping money in your local area, creating jobs, businesses and giving farmers a bigger cut of the price. Good for the community – linking people in urban areas with the countryside. Good for you – fresher food, better nutrient levels, and fewer contaminants.
What can we do?
There's a good reason to give thanks each time we eat. In the UK we have more variety and more affordable food than ever before. But with such abundance comes responsibility.

Fairtrade Fortnight at the end of February reminds us of the people that labour to produce our food and of the land, water and natural resources that sustain our crops and livestock. Whenever we can, we should try to support our producers and environment, locally and globally.
February is a good month to remind ourselves of all we have and to try and give something back.