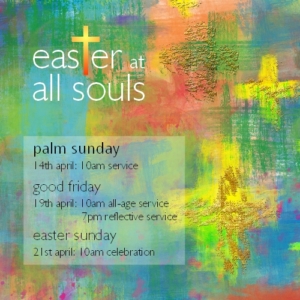 Services
Palm Sunday – 14th April 
10am – all-age service
Good Friday

– 19

th April
10am – all-age service
7pm – reflective service
Easter Sunday

– 2

1st April
10am – all-age celebration.
Uncertainty & Hope
It would be hard to imagine living in more unpredictable times. From our domestic politics to international relations or terrorist threat, there is very little we could confidently predict about what next month will bring, let alone next year.
The first followers of Jesus knew something of the experience of uncertain times. Living under Roman occupation, they were people of little significance to those with power and were at the mercy of global and domestic power plays and politics.
Into the midst of those turbulent lives had come Jesus – the one in whom they started to believe. God had come to walk with them and bring them hope of a new start, a life of significance and promise. Yet on the Friday we now call 'Good', everything – all hope – seemed destroyed. If there's one thing that's certain in life, it's that death seems the end. In dying, Jesus seemed finished.
But Easter tells the story of new life – a hope that is realised and true. Not a false dawn or vain 'whistling in the wind', but a certain hope in the midst of uncertain times. God's life breaking into this life for all who long for something more.
We would love it if you were able to join us this Easter to experience something of this certain hope and new life for yourself.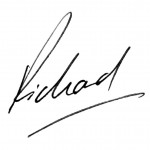 (Rev Richard Frank, Vicar)