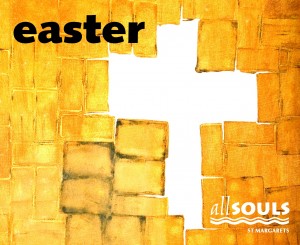 Palm Sunday (April 1st)
10.30 & 4.30
Both services will be slightly shorter than normal, with the first half all together and an Easter video & self-help creche in the second part of the service.
Maundy Thursday 8pm
A quiet, reflective communion service focusing on the Last Supper.
Good Friday
10.30am All-Age Service
A short service of songs and prayer for all ages. Great to invite family and friends to.
8pm Meditation

time for prayerful reflection in the context of worship.
Easter Sunday
10.30am Celebration
…preceded by breakfast from 10.15…
Join us for the high point of the Christian year as we celebrate the resurrection of Jesus together.