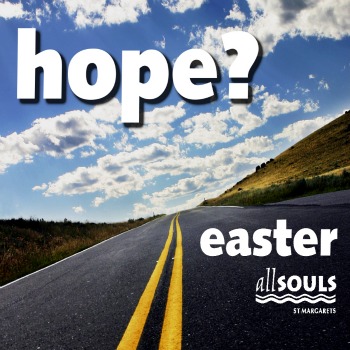 Easter might come second to Christmas for parties and presents, but Christians count it the high point of the year and the very heart of our reason to have "hope".
The services at All Souls this year aim, as ever, to have something for everyone. We've the solemnity of Maundy Thursday communion and the quiet prayer of Friday evening, but there's also the all-age bustle of Good Friday morning and Easter Sunday.
If you're coming with children, you might especially want to join us for a brief service on the morning of Good Friday (and stay for hot cross buns) – and for our celebration of Easter Day itself, with breakfast from 10am!
Easter's a great opportunity to see what lies at the heart of Christian hope and to be part of the celebrations at your local Parish Church.
Maundy Thursday
8pm Holy Communion
Marking the Last Supper Jesus shared with his friends, we spend time together focusing on sharing Communion. A simple prayerful service. Charles will be preaching.
Good Friday
10.30am All-age Service
Last year's first 'all-age Good Friday service' was a tremendously well received and moving occasion. A short (30ish minutes) service for all ages, focusing on what Jesus did for us on the cross. With songs and interactive words and talk. Followed by hot cross buns! Come and join us – and bring your friends! Richard will be leading and speaking.
8pm Meditation
An hour of guided space for prayer and meditation on Jesus' self-giving love, with music, words and images to help focus our prayer. Let by Tors
Easter Day
10am Breakfast!
Join us for bacon rolls before the service…
10.30am All-age Easter Sunday Celebration
The high point of the Christian Year – and a favourite service for All Souls. A relatively short (40ish minutes) all-age celebration of Jesus' life, death and resurrection, culminating in Communion together. Richard will be speaking.