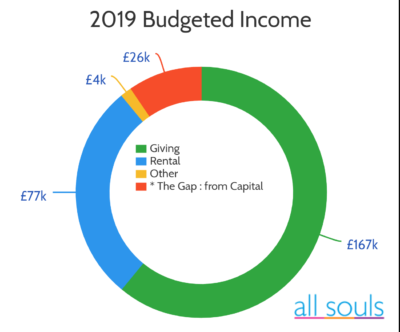 More than 70% of our income needs to come from the generous regular giving of members of All Souls.
In 2019, we predict that nearly £30,000 of our expenditure will not be met by either giving or rental income. That gap will be covered from capital this year, but that capital won't last forever. We need to increase our giving to cover the gap.
How much should I give?
Some give a few pounds a month and others commit to hundreds.
Some Christians aim to give 10% of their income away as many have done through the generations.
Whatever the amount, we aim to give out of gratitude to God rather than duty and to be wise as well as generous.
Who looks after the money?
Finance Manager – Brenda Dickens records income (including Gift Aid) and expenditure with our Sage accounting package.
PCC Finance Team – chaired by Richard Frank and including the Treasurer Tim Stephens. The team meets to consider financial strategy and spending decisions.
The PCC – acts as the charity trustees for All Souls and receive reports from Finance Team and Finance Manager.
The Staff Team follow the church Financial Management Policy.