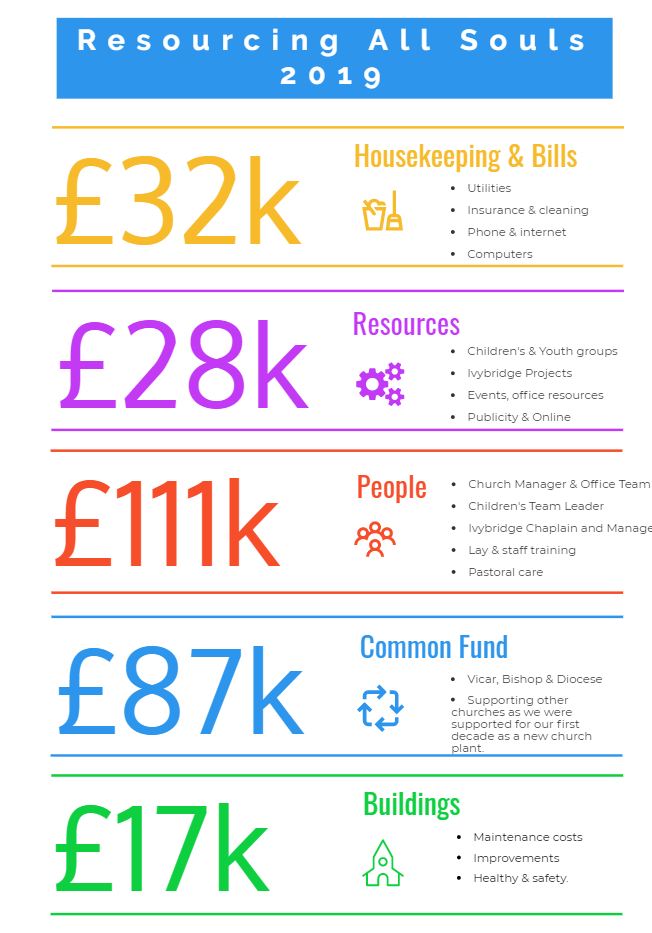 Our accounts are presented at the Annual Meeting and can be requested at any time afterwards.
Expenditure is monitored by our Finance Manager, Treasurer, Finance Team and PCC on a weekly, monthly, bi-monthly and annual basis.
The PCC sets an annual budget under five headings:
Housekeeping & Bills – (£32k) the basics of church life – i.e. the regular bills!
Resources – (£28k) for children, teen & adult groups, office equipment, a.v., printing and outreach events. We also give ~£200pw to support worldwide Christian work.
People – (£111k) salaries of a small office team, our Ivybridge and our Children's Team Leaders and clergy expenses, as well as a fund to assist those in specific need.
Common Fund – (£87k) after ten years of being subsidised by other churches, we are finally "paying our way" by covering the salary of having a Vicar, the central costs of the Diocese and now starting to provide for other churches that are struggling.
Buildings – (£17k) a 130-year-old church, and heavily used halls need to be maintained and equipped to be effective bases for mission.