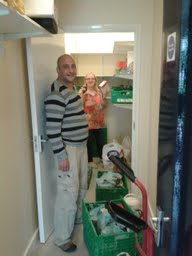 The Isleworth Foodbank is a satellite operation of Richmond foodbank and run by volunteers from All Souls Church at the Bridgelink Centre on the Ivybridge Estate, Thursday mornings from 9.30-11.30am.
Covid-19 Update:  We are also providing deliveries to people self-isolating at this time.
Food Banks are a way of supporting local families who may be struggling to feed themselves owing to various reasons such as redundancy, illness, benefit delay, domestic violence, debt and family breakdown. People are referred to the foodbank by frontline care agencies and support charities.
If you need help with food, or need to refer someone please contact: ivybridgeallsouls@gmail.com
To find out more information go to www.richmond.foodbank.org.uk
We are grateful for all your donations which enable us to continue running the Isleworth Foodbank.  If you would like to donate, please see our Foodbank Appeal.