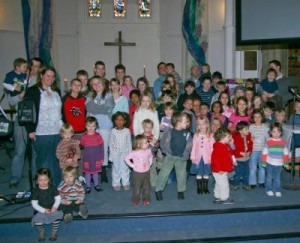 Here's the low-down on Sunday children's groups for the rest of 2011 (September 11th onwards) – and into 2012…
Groups and Rooms
We've made some big changes to how we group our children's agegroups – and also to where they meet. There are now more than 170 children on in our groups who come regularly – that's quite a challenge for our halls… and our team of volunteers. A great challenge to have!
Here's how things are working: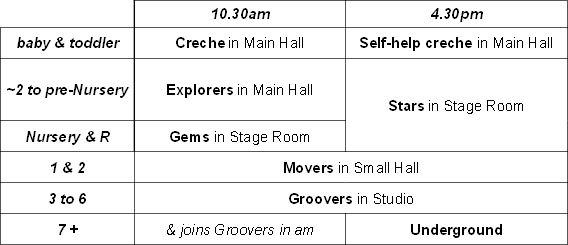 …or in text form:
Baby & toddler : AM – Crèche in Main Hall :: PM – self-help Crèche in Main Hall
~2 to pre-Nursery : AM – Explorers in Main Hall :: PM – Stars in Stage Room
N & R : AM – Gems in Stage Room :: PM Stars in Stage Room
1 & 2 : AM/PM – Movers in Small Hall
3-6 : AM/PM – Groovers in Studio (yr 7+ as well in AM)
7+ : PM – Underground… in the Underground!
Check in on arrival at church!
All babies, children and teenagers will need their check-in card before going to their groups.
If they've been before and are registered, they'll have one waiting for them each week.
New children will need you to fill one in for them at the Children's Check-in Desk at the back of church.