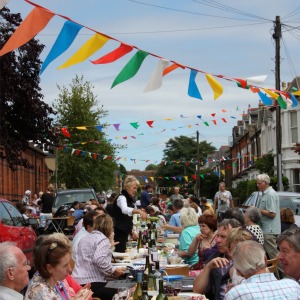 The whole neighbourhood is invited to lunch!
Our last two years teaming up with the local Residents' Association (the NSMRA) to hold a street party have been a tremendous success…
Focused around the front and garden of the church site, some 300+ people came – photos from the gallery give you a flavour of the event. It was part of the national initiative called The Big Lunch.
On Sunday 5th June, after the morning service, we'll be working with the Residents' Association once more to set things up – the roads will be closed, bouncy castle readied, bunting strung round the church, marquee erected, p.a. switched on and we'll start collecting together the food to share for a street party lunch from 12.30.
It's incredibly easy to be part of and it will be a fantastic afternoon for all ages – but we simply can't do it without all hands on deck..!
Here's how you could help…
* Setting up – straight after the service, we'll have tables to move, a marquee to set up etc.
* Steward – that just means wearing badge and knowing where things are… easy!
* Marshall – an hour standing at one of the road closed signs
* Bouncy Castle – this needs to be supervised at all times for safety: could you watch it for a time?
* Refreshments – we're offering free hot drinks from the small hall: could you help serve these?
* Photography – bring a camera and let us know so we can tell you how to upload them to the gallery.
Let us know you're coming – it'll take less than 60 seconds to click this link, fill in your name and tick a box or two!!