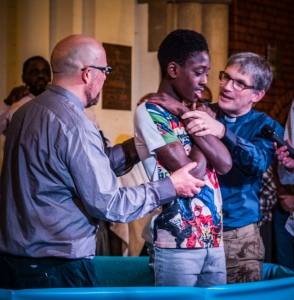 For those who were not baptised (or "Christened") as an infant, our service on Sunday 11th June 2017 at 11am gives a great opportunity to make faith public and to receive the sign (baptism) of belonging to God's people.
Baptism is always about most of all about God's love: that in Jesus, God has loved us before we've ever done anything for him – we can't lose that love by messing up, nor are we asked to earn that love by being good. God's love is simply a gift for us to receive with an open heart.
Choosing to be baptised in later childhood, as a teen or an adult, has an additional layer of significance, in that it gives us the chance to make public our beginning to respond to that love – to "love God back" with our lives.
Baptism at this stage is for anyone who's begun to do that, and who is ready to identify publicly with belonging to God's people, God's "big family".
If you or your teen is interested, contact Richard as soon as possible.
[Our next Confirmation Service will be in October at St Stephen's Church Twickenham – let Richard know if you're interested]