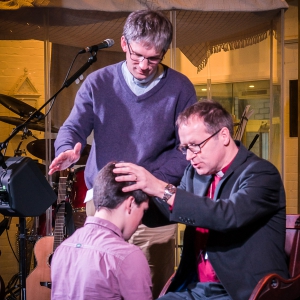 We are delighted to be welcoming Bishop Graham to conduct a service of Baptism, Communion & Confirmation at 3pm on Sunday December 11th this year.
Baptism
For those never baptised (or "Christened") before in a Christian church, but who knows they belong to God's family and wants to mark their desire to go on responding to the love of Jesus for them.
Baptism is for adults who are on the journey of faith in Jesus and for babies/children/teens who are growing up in home where a parent wants to bring them up knowing the gift of faith in Jesus.
We baptise in this service by immersion (we borrow a pool!) – which is a great chance to be reminded of the powerful symbolism of being 'washed clean' by God and 'dying and rising again' in the new life of Jesus.
Preparation to be arranged (a couple of sessions) in November.
Communion
All those who have been baptised are welcomed to receive Communion – though we practice the 'family pattern' in All Souls of baptised children waiting until secondary school age before starting to receive. This is so that those not baptised as infants (perhaps from homes of other Christian traditions) do not feel excluded before they are old enough (in their tradition) to be baptised.
This special service can be an opportunity to mark a 'First Communion'.
We will provide a session or two of preparation for teenagers who have been baptised and would like to start receiving the bread and wine (some begin with just the bread if they prefer).
Confirmation
For those who have been baptised (perhaps in infancy or on the same day), Confirmation marks a public commitment to faith and service of God's church.
We commend it to those who are old enough to see beyond childhood towards an adult-shaped faith, perhaps of 15-years-old and more.
Preparation of a session or two will be provided in November.
Please contact Richard to express an interest in any of the above or to ask any questions by the end of October so that we can plan for the service.