Fancy a night out at the movies? A group of us are heading to the Richmond Odeon to see Four Lions on Thursday 13th May for an early(ish) evening showing.
…here's how it's billed by the Odeon on their website….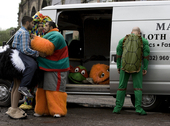 'The hugely anticipated debut feature film from Chris Morris, 'Four Lions' is a thrilling comedy about modern jihadism in the UK.
Disillusioned about the treatment of Muslims, Omar is determined to become a soldier. Dim-witted Waj thinks this is a great idea, but white Islamic convert Barry has other ideas. Meanwhile, Faisal has learned how to make a bomb – but he can't blow himself up just now because his sick father has 'started eating newspaper' – so he's going to train crows to fly bombs through windows. The most inept terrorists the world has ever seen are about to make their mark – on each other if nothing else.'
The film has had rave reviews and it looks like it will provoke plenty of discussion…
The idea is to meet the following week (Thursday 20th May) to have a think about some of the issues that the film raises…how does our faith shape our response to the film? Does it raise any questions that our faith might help us answer?
To book follow the link  'All Souls at the Movies'
It would be really helpful if you could let us know you are coming by Monday 10th May so that we can make sure we get the right number of tickets in advance.