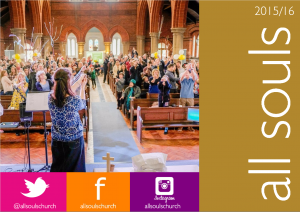 Each year, in common with all Church of England parish churches, All Souls holds an Annual Meeting (officially the "Annual Parochial Church Meeting"). Held before the end of April (in 2016 it was on Thursday 28th April), the meeting sees the election of the Church Wardens, election of new PCC members and presentation of the accounts for the previous year (2015 in this case).
We produce two reports, both of which are available to read or download online:
The Annual Report including Accounts – this is the official report of the charity, produced for the Charity Commission and CofE. It includes our inspected accounts and an account of some of the year's activities as well as lists of (for example) PCC members.
The Annual Review is a more engaging presentation of the year just past. This year we chose to tell the story of the year through interviews with nearly thirty members of All Souls.
If you have any questions about either report, please do get in touch.