Most Sundays we have services at 10am & 4.30pm, although there are some alterations to the afternoon service depending upon the time of year, so please check the website or facebook page for latest details. Please note that our 4.30pm service has now stopped for the summer period, and will restart again on 15th September, 2019.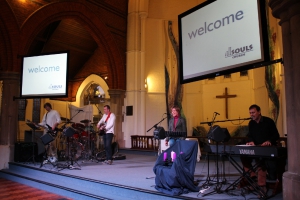 We've no books or service sheets to find your way through (though there are Bibles in the pews so you can follow the sermon), but instead all the words for the service and songs are on the video projection screens at the front.
You can choose to sit anywhere you like (including the back row if you'd rather keep the exit in sight!) and take as much or as little part in the service as you feel comfortable with.
At our 10am service, all ages are together for the first part of the service – usually around fifteen minutes (a little more if it's a baptism or all-age communion) – with some songs, prayer and an introduction from the service leader.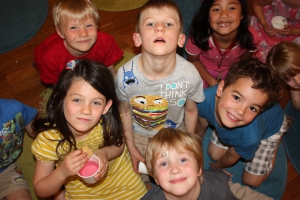 The children then head out for their groups, but if you're a parent, we encourage you to go out with your child and make sure they're settled and happy before you head back into the service. In fact if you/they'd prefer (and especially for the little ones) you can stay with them the whole time… though you might get roped in to help with a craft activity!
We also have a creche at our 10am service – not because babies aren't allowed in church (plenty stay in, especially if they're asleep or feeding), but because it gives them plenty of space to crawl and (the older ones) to play and it means you don't spend the time worrying about trying to keep them quieter in the sermon. If you're baby's happy to be left, we have a rota of parents – regular members of the church – who take turns to look after children.
You can read more about our Sunday children's groups here.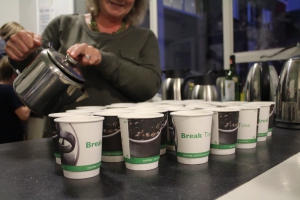 We serve refreshments before our 10am service (from 9.40am) and after our 4.30pm service, while children enjoy the garden (if it's decent weather) and adults get to chat or take the opportunity to pray together.
If you'd like to know more before you come – or to make a comment on a service you've been too – use the comment form below or the contact page.