Baptism (sometimes called "Christening"), whether of a baby or an adult, is a
celebration
of God's love for us in Jesus, a
mark of belonging
to God's people and a
call to follow
Jesus.
Find out more below – and click the image below to also read more on the Church of England Christening's website.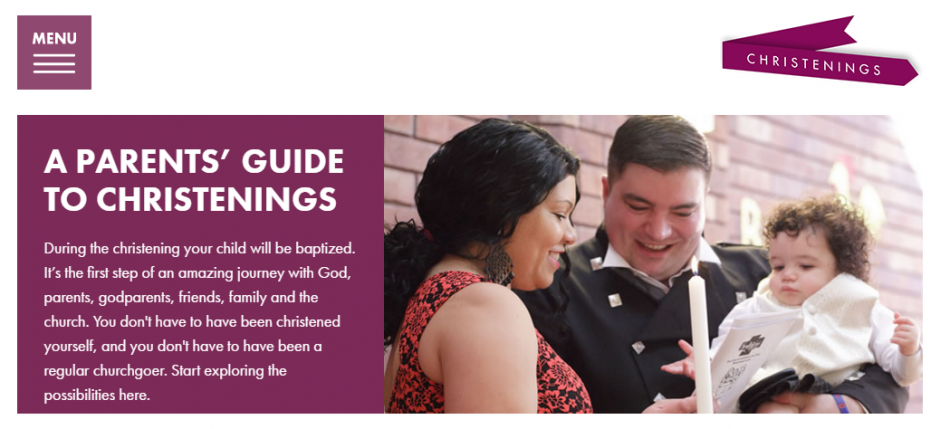 Children's Baptisms (also called "Christening")
If you are a parent who would like to have your baby baptised the most important step is to be coming along regularly to All Souls yourself and making sure that it's the local expression of the church of Jesus that you will feel glad for you (and your child) to be part of. Then chat to one of the clergy about coming on our short (two session) baptism course.
We ask that people are coming along to All Souls reasonably regularly for a few months before baptism – that feels important from both sides: both that the church community (who will be making promises towards your child) get to meet you, but equally that you feel you have got to know All Souls and are happy to count yourselves as part of the family here.
We also run a very informal and down-to-earth pair of baptism preparation sessions for parents. The two one-hour conversations are run several times a year and by being on the list you will automatically hear about those in be able to sign up when a pair of dates fits.
Finally, we arrange the actual dates quite a long way ahead and do so on a "first come, first served" basis. We rarely have more than one baptism Sunday in the month (though the summer can be an exception), but usually have more than one household on a particular Sunday. It's simply a case of finding the date that suits best and getting back to me as soon as possible while it's still free.
We conduct child baptisms in our main Sunday services about once a month and book dates around six months' ahead.
There may be reasons why you feel a Baptism service is not the appropriate way right now to mark your child's new life:
Some Christians from certain traditions (e.g. Baptist churches) would rather leave baptism to when their child grows up and decides to receive that sign themselves.
Some parents want a service of blessing, but aren't yet ready to make the promises about faith that the Baptism service requires.
In theses cases, we are delighted to offer a Service of Thanksgiving as part of our main morning service. This is a full Church of England service which you can read about here. Do contact one of the clergy to find out more.
Where someone was not baptised/Christened as a baby, but comes to Christian faith as an adult, baptism can be arranged (usually by full immersion) as required, though they are often in the context of the annual Confirmation Service.
Do contact us if you've any questions.
Below is a short video, shot by the family concerned (and used with their permission and our thanks) of one of our baptisms in 2012 – and further down the page some photos from baptisms in the last twelve months…