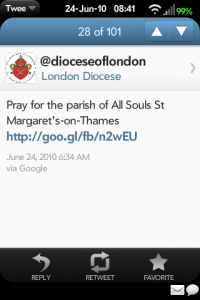 Just got notice via twitter that the Diocese of London is praying for us today in All Souls!
Across the Diocese, churches pray for one another via a 'cycle' of prayer meaning that each parish is focused on once a year.
We'll be prayed for at particular services today in St Paul's Cathedral and I've had a personal letter from the Bishop of London to say he'll be praying for us today.
It's good to be reminded of our belonging to something bigger and wider than ourselves – and we're very grateful for the prayerful support today of so many who've never met us and have no personal or local stake in what happens here. It's all about growing the Kingdom, rather than our own Empire – and praying for other churches is part of remembering that.