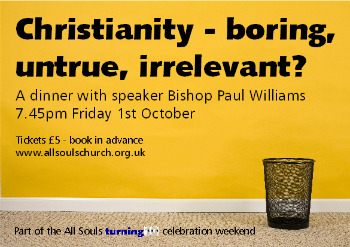 We hope you can join us – and bring some friends – for this special invitation dinner on Friday 1st October from 7.45pm with Bishop Paul Williams, Bishop of Kensington.
There will be dinner, followed by coffee and a talk by Bishop Paul, entitled: "Christianity: Boring, Untrue and Irrelevant?".
There will also be an opportunity to find out about he Alpha Course starting at All Souls.
Tickets cost £5 – payable in advance (cheque to 'All Souls Church' to the church office or in cash on the door)
---