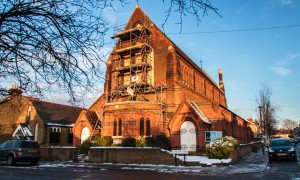 For many years we have known that the "face" of All Souls has not matched our "heart" and that we have been presenting an increasingly unwelcoming and broken down exterior to our neighbours who walk by or live within sight.
The project is called Face to Face and this web page (and linked resources) is a first look for neighbours and congregation at the plans we have been working on.Our response has been to put together a plan that not only opens up the site – especially by removing the low walls around the church – but also aims to make it a more accessible and attractive set of buildings at the centre of this local community.
We are publishing them at this early stage for conversation and feedback.
At the bottom of this page is an online version of the leaflet we are making available to neighbours and congregation members. Before that is a summary of the main parts of the plan and links to online versions of some 3d renders.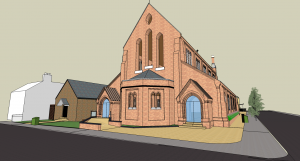 Main Features
A disabled access ramp to a re-opened main entrance.

Glass doors on both main entrances.

The removal of the low wall at the front and side of the church.

Creation of a concourse area on the corner of Northcote/Haliburton, by main entrances. Future plan may involve a tree and bench feature.

Smartening up of area outside The Studio.

Removal of walls extending out from the courtyard on Northcote Road and replacement with railings along building line…

…inclusion of bicycle park and new bin store in courtyard.

Removal of curved wall at corner of Northcote/Newry Roads to open up view down Northcote from the east.

Opening up of Northcote Road pavement to – effectively – double width with above changes.

Removal of metal grilles from ground floor windows in church.

Repointing and repair of high wall around Newry Road end of halls.
View Plans Online
A gallery of screen shots from the 3d renders of the plans is available online here.
View via an in-browser 3d render – which you can 'drag and pan' your way around, and/or click on the thumbnails at the bottom to view particular views. T

he content relies on 'flash' technology and not all browsers (notably ipads) support this (see 2. below therefore). Please note that this version omits the trees on Northcote Road and does not show a proposed 'planting' for bushes underneath the church windows on Northcote Road – they are present in the film version….

If your web browser will not play this, you can access an animated film of the plans on vimeo.
Responses
If you'd like to respond to these plans use our contact us page to send us a more detailed (and less public) submission.
Timing
We expect to apply for permissions for this development by the end of February.
Finance
We will not be fund-raising for this project as it has been fully covered by a generous donation from within the church community.
A Summary of the Plans
[scribd id=121480408 key=key-22u981le32jaiwaiag1g mode=book]