Services
Palm Sunday – 14th April 
10am – all-age service
Good Friday

– 19

th April
10am – all-age service
7pm – reflective service
Easter Sunday

– 2

1st April
10am – all-age celebration.
What's in a logo?
It's hard to imagine a world without brand logos. From Nike's 'Swoosh' to the golden arches of McDonald's, our clothing, internet viewing and possessions are peppered with reminders of the companies behind them.
However, there's one logo that has been around longer than any other – a simple pair of unequal lines forming the shape of a Cross. As well as being found in and around churches, it adorns the ears and necks of many people, and is even permanently inked onto some people's bodies in the form of a tattoo.
But how did a sign of brutal torture and execution become the identity for a religion proclaiming love and life?
The answer is to be found in the story of Easter. The life of Jesus culminated, not simply in his death by crucifixion, but in the outrageous claim of his resurrection, giving the promise of 'life in and beyond this life' for all who respond to God's love.
We warmly invite you to be part of this community's exploration and celebration of the power and hope of the Cross this Easter. Join us for the informal thoughtfulness of Good Friday morning or the reflective quietness of that evening – and don't miss out on the exuberant celebration of Easter Day!
We look forward to seeing you there!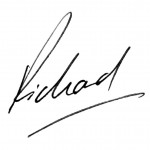 (Rev Richard Frank, Vicar)