The Difference Generosity Makes
Church life costs – from the craft children learn through and the refreshments we enjoy, to the staff team we value and the buildings we use.
We give because we don't want the cost to be met by just a few.
We give because it's good for us, too – generosity makes a spiritual difference.
We give because it makes a significant difference to All Souls, transforming lives and local communities.
…and most of all we give because it's one important way of responding to God's generosity towards us.
The health of All Souls depends on givers regularly considering whether they could give more, both to pick up some of the responsibility from those who move away or whose personal circumstances change and also to make possible new life and ministry. If you're giving already, would you consider an increase this year?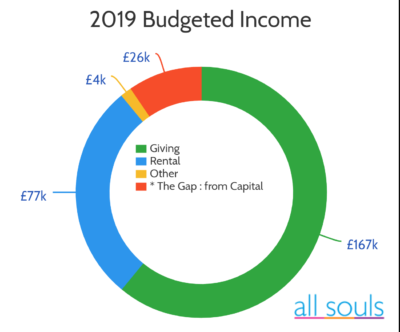 More than 70% of our income needs to come from the generous regular giving of members of All Souls.
In 2019, we predict that nearly £30,000 of our expenditure will not be met by either giving or rental income. That gap will be covered from capital this year, but that capital won't last forever. We need to increase our giving to cover the gap.
How much should I give?
Some give a few pounds a month and others commit to hundreds.
Some Christians aim to give 10% of their income away as many have done through the generations.
Whatever the amount, we aim to give out of gratitude to God rather than duty and to be wise as well as generous.
Who looks after the money?
Finance Manager – Brenda Dickens records income (including Gift Aid) and expenditure with our Sage accounting package.
PCC Finance Team – chaired by Richard Frank and including the Treasurer Tim Stephens. The team meets to consider financial strategy and spending decisions.
The PCC – acts as the charity trustees for All Souls and receive reports from Finance Team and Finance Manager.
The Staff Team follow the church Financial Management Policy.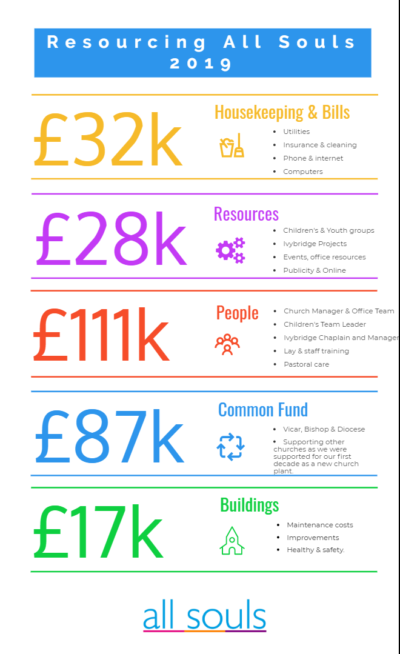 Our accounts are presented at the Annual Meeting and can be requested at any time afterwards.
Expenditure is monitored by our Finance Manager, Treasurer, Finance Team and PCC on a weekly, monthly, bi-monthly and annual basis.
The PCC sets an annual budget under five headings:
Housekeeping & Bills – (£32k) the basics of church life – i.e. the regular bills!
Resources – (£28k) for children, teen & adult groups, office equipment, a.v., printing and outreach events. We also give ~£200pw to support worldwide Christian work.
People – (£111k) salaries of a small office team, our Ivybridge and our Children's Team Leaders and clergy expenses, as well as a fund to assist those in specific need.
Common Fund – (£87k) after ten years of being subsidised by other churches, we are finally "paying our way" by covering the salary of having a Vicar, the central costs of the Diocese and now starting to provide for other churches that are struggling.
Buildings – (£17k) a 130-year-old church, and heavily used halls need to be maintained and equipped to be effective bases for mission.
Standing Order is the best way to give financially to the ministry at All Souls. You can use the following details to set up an automatic payment from your bank account:
Sort Code 20-72-33
Account No. 50112135
Make sure you have completed a Gift Aid form online here (or from the church office) – it adds 25% to your donation at no extra cost to yourself!
You can also give using an envelope from inside the main entrance of church.