The Friendship Cafe takes place on Tuesday mornings from 10am-12pm at the Bridgelink Centre on the Ivybridge Estate.
Run by local volunteers, the project aims to provide a friendly place for local people to socialise, enjoy refreshments and enjoy occasional talks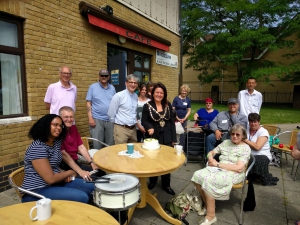 and even some bingo!
Volunteers provide a warm welcome and a listening ear for anyone dropping in to chat.  The project is aimed at older people, but anyone living locally is welcome.
The club was started in response to reports of isolation amongst some of the older residents on and around the Ivybridge Estate, to create a sense of community in the area.