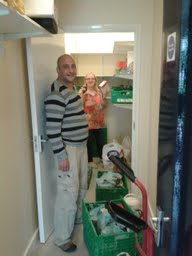 The Ivybridge foodbank is a satellite operation of Richmond foodbank and run by volunteers from All Souls Church at the
Bridgelink Centre
on the Ivybridge Estate, Thursday mornings from 9.30-11.30am.
Food Banks are a way of supporting local families who may be struggling to feed themselves owing to various reasons such as redundancy, illness, benefit delay, domestic violence, debt and family breakdown. People are referred to the foodbank by frontline care agencies and support charities.
If you would like to donate food, please bring along to All Souls church at a Sunday service, or during the week (office hours only.)
---
If you have someone you need to refer, or need a referral please contact: ivyfoodbank@vineyardcommunity.org
To find out more information go to www.richmond.foodbank.org.uk


Running alongside the foodbank is the drop-in session, Refresh@Bridgelink. Set up in partnership with Krystal McDonald, who provides an advice service for local residents at the Bridgelink Centre on a Thursday morning, this project is designed to provide local residents with a friendly and supportive place to meet whilst waiting for advice. For more information, please contact
fi.budden@gmail.com
 We are grateful to Lock&Leave for providing additional foodbank storage.