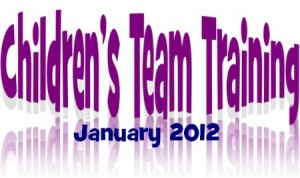 Three important sessions coming up – across five dates in January – for Children's Team members…
Children's Team 101
For all who've not done the introductory session (essential for every team member to attend within their first few months involved in Sunday groups) – two alternative sessions, one in the evening and one morning:
Tues 10th – 8pm
Fri 20th – 9.30am
Storytelling Tips & Tools
For all children's team members who are ever involved in storytelling, or would like to learn some more before they have a first go – whether it's a Bible story for 5-year-olds or 15-year-olds, there are plenty of ways you can learn to engage children whether a beginner or experienced with words.
Creche & Explorers' Team Evening
An evening to meet the rest of the team, to talk about the use of the Main Hall and to plan for the coming year.
---
Let us know you're coming…
Go here to fill in a simple form to say you're coming – we'll let you know venue details before the day.